Before you decide to buy your wireless headphones, it is very important to know what kind of audio outputs your television has. This must be your starting point as this will determine the kind of wireless headphone that is compatible with your TV and if you also need extra devices, like DAC.
You can check your television if it has one of these 2 types of audio outputs:
Type of audio output
Television with Analogue Output
This is the most popular type of audio output, although it isn't necessarily the best. Normally, when you use the headphone output on your TV, the sound coming from the built in speakers will stop and you could only hear the TV using the headphone including anyone who's also connected to it.
In majority, wireless headphones usually come with a mini cable so you can also connect them via the headphone jack on the TV.
Generally, this output is located at the back of your television that appears as 2 round sockets, usually one white and one red. This allows a pure line out signal so it won't interrupt with the sound of your TV's built in speakers. Since most wireless headphones use analogue inputs, this makes your best option as majority of them come with appropriate adapters to make connecting wireless headphones to the RCA phono socket easier.
Television with Digital Audio Output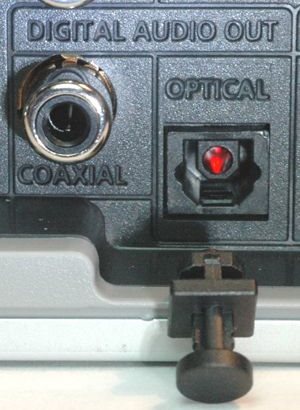 Modern TV's nowadays usually come with digital output which is either coaxial or optical. If it happens that your wireless headphone transmitter is only exclusive for analogue audio, then you can use Digital to Analogue Converter (DAC). TVs with Digital outputs are slowly getting popular nowadays, thus you can already buy wireless headphones that have built in DAC to convert the digital signal into analogue for a better quality of sound.
How to connect wireless headphones to TV
Connecting Wireless Headphones via the Headphone Jack
Step 1. On the rear side of your TV, connect the end of audio cable to the headphone jack (audio out).
Step 2. Connect the other end of your audio cable to audio in jack on the back of your wireless headphone transmitter.
Step 3. Connect the AC power adapter of your transmitter into the power adapter jack.
Step 4. Plug the power adapter of your transmitter in an AC outlet.
Step 5. Adjust your desired TV volume.
Step 6. Check if your wireless headphone are turned on and has been adjusted to your desired volume.
Note: If your television comes with model-specific capabilities and features, kindly check your device's operating instructions.
Connecting Wireless Headphones via the RCA Jack
Step 1. On the rear side of your TV, connect the end of audio cable to the RCA jack (audio out).
Step 2. Repeat steps 2 to 6 for Connecting via the Headphone Jack.
Important Notes:
Ensure that your transmitter is plugged and your headphone is fully charged.
Your headphone and the television must be in close proximity with one another.
If you want to hear audio using your headphones and not mute the audio from your TV's built in speakers, you can try to connect your headphones to the cable box than connecting it to your TV (that is if you're using one).
Connecting Wireless Headphones to TV with Digital Audio Output
If your TV doesn't come with a headphone jack, you will have to use an adapter that will connect your wireless headphones to the kind of audio it offers. Some modern televisions doesn't come with analog audio outputs so you will have get an adapter that will convert the digital signal into an analog, as well as use an appropriate jack for them. DAC (digital audio converters) take the digital sound signal of your television, convert it to an analog one, and has the traditional 3.5 mm headset socket so you can connect your wireless headphones like how you do it with TVs with analog audio output.
Connecting Wireless Headphones to TV using Bluetooth
Bluetooth headphones make your TV experience more comfortable and discreet. While there are some TVs that come with built in Bluetooth connection capability, some TVs can also be added with external adapters for you to be able to watch TV and use wireless headphones.
Smart TVs usually come with wireless connection technology built in it, so you can connect any Bluetooth accessory using the on-screen display.
Step 1. Look for the Accessory menu and open the Bluetooth options on your TV set.
Step 2. Set it into pairing mode while putting your Bluetooth headphones into pairing mode too.
Step 3. Once enabled, you will see the Bluetooth devices listed on your TVs display.
Step 4. Select your headphones using the remote and if it's successfully paired with your television, the audio will automatically synch with your TV.
If you don't own a smart TV, do not fret. With the technology nowadays, you can find different options like using a Bluetooth transmitter or dongle and plug it in your TV. The dongle that's attached to your TVs USB port provides it with Bluetooth capability so you can still connect your headphones via Bluetooth.
However, you need to be aware that when you connect a Bluetooth transmitter into the headphone jack, it will usually cut your TV's built in speakers. So, if you want to use both the external speakers and your wireless headphones, you should plug the Bluetooth transmitter into the audio jack and not in the headphone jack.
Note:
Bluetooth headphones need to be fully charged in order to pump out great quality sound. Nice set of Bluetooth headphones usually last ten to twelve hours.
Although Bluetooth headphones provide a large range for transmission, interference can cause frequent audio drop outs or limitations in its range. Check if you have other wireless technologies that might provide interference with the Bluetooth signal.
Finally, with lots of TV accessories and wireless headphones available at the market at this moment, you will surely find wireless headphones that will complement your set-up regardless of what type of TV set you have.